Math has always been one of my favorite subjects to teach in kindergarten, and that even includes tricky word problems! Understanding and solving story problems with text and equations can be challenging for young learners who are still working on both phonics and number sense. In this post, I wanted to share some helpful tips for teaching Math Story Problems in kindergarten.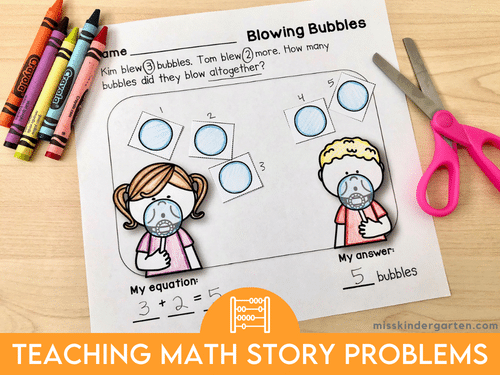 Tips for Teaching Math Story Problems in Kindergarten
Young learners need to draw on many different skills in order to read, understand, and solve math story problems. This can be a challenging step in the kindergarten math curriculum! However, there are a few things that you can do to make it easier for your students to become successful problem solvers.
1. Explicitly Teach How to Dissect Story Problems
When teaching students how to solve story problems, it's important for them to learn how to find the important and relevant parts of each problem. Teach them how to do this before they even start thinking about the answer.
Show students how to circle the numbers in the problem and underline the important words. Your students have likely heard addition and subtraction keywords as you have taught those concepts during the year. This is a great opportunity for students to see those words within story problems.
2. Act Out the Problem
One of the benefits of using word problems is that students are able to see that math is all around them. By acting out the story problem, students can start to see how they can apply their math knowledge to real-life situations. After identifying the important parts of the story problem, it's time to act out the problem with manipulatives. These could be actual math manipulatives like base ten blocks or snap cubes. You could also use paper cut-outs to match the objects mentioned in the word problem.
Another benefit of acting out word problems is that it provides students with concrete visual support for addition and subtraction. They can physically add or remove objects as you read the story problem together as a class.
3. Model the Story Problem with an Equation
Once students have had an opportunity to understand what is happening in the story problem and act it out with manipulatives, it's time to model it with an equation!
Students can write a number sentence to match the story problem that they just acted out and solved. This is an important connection for young students to make as they move from concrete to abstract representations of addition and subtraction.
4. Encourage Students to Use Math Strategies
As your students get more comfortable with the process of solving addition and subtraction story problems, they might want to try other strategies. Chances are that you have taught your students a variety of different math strategies as you practiced addition and subtraction. It's a great idea to keep these strategies posted on an anchor chart so students can continue to reference them as they solve story problems.
5. Practice, Practice, Practice!
Finally, the best way for students to learn how to solve story problems is through consistent, engaging practice! Any time we ask our students to practice the same skill many times, it's important to find ways to add some variety to keep students interested. Here are a few tips for adding engagement to story problem practice:
Get Moving! – Invite your students to take the place of manipulatives as you act out the story problems together as a class. Students love to take a turn being one of the butterflies or ants from a word problem.
Write Story Problems – Students love to come up with their own story problems to solve! Sometimes it can be challenging for students to get their ideas on paper, so I have created blank template to help! Each story problem template comes with sentence frames and coordinating manipulatives that students can use to write and model their own story problems.
Centers – You can add story problems and manipulatives to your math centers for hands-on and engaging practice. The write-your-own activity mentioned above is a great option for centers! Just put the templates into sheet protectors and students can write and solve their own story problems again and again!
Missing Addend Mystery – Story problems with missing addends can be more challenging for students to understand. Treat it like a fun mystery when a story problem contains a missing addend! Use a special symbol, like a box around the word "some", when dissecting the problem.
Use Seasonal Story Problems – There's always something engaging about using story problems that are relevant to the current season. It's easier for students to relate to the scenario in the word problem when it's something they are currently experiencing!
Printable Math Story Problems for Kindergarten
I have created a bundle of Printable Math Story Problems that correspond to each season of the year. This means you'll have plenty of engaging activities to introduce and practice story problems, no matter the time of year that your students are ready for this step.
Everything you need for each story problem is included on one page, so it requires no prep! These are a perfect option for whole group practice, small group intervention, math centers, fast finishers, or even morning work. When students use these printable interactive math story problems, they will be practicing fine motor skills as they cut, glue, and write. Plus, students love to color in everything on the page!
If you'd like to take a closer look at everything included in this bundle, you can click below to find it in my shop!
$10.00
Story problems are a problem no more! Addition and subtraction story problems are a great way to help your students integrate math facts into real-world problems.
Shop Now
Save These Tips for Teaching Math Story Problems
I hope that these tips and resources will be helpful to you as you teach your students how to solve story problems. If you'd like to return to this post later, be sure to save the pin below to your favorite teaching board on Pinterest. You'll be able to quickly find these tips and resources whenever you need them!