Reading sentences is such an exciting milestone in kindergarten!  Students have been working hard to master letter sounds in isolation and within words.  It's always such a motivating experience for students to put everything together into sentences and then into passages that tell a story! As students make the leap from sounding out words to reading with fluency, it's important to use literacy resources that set them up for success.  In this post, I'm going to share why Kindergarten Decodable Passages are the perfect tool for the job!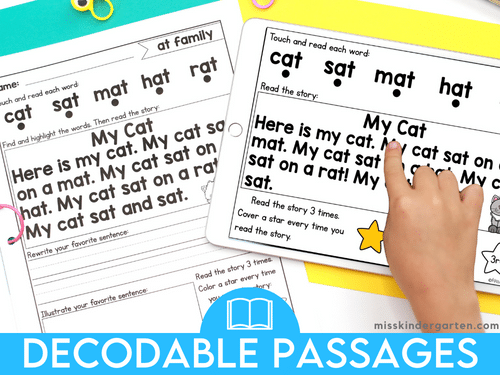 What Are Decodable Passages?
A decodable passage is a short paragraph that focuses on a particular phonics pattern.  Decodable passages generally progress in difficulty as each new phonics pattern is introduced. For example, a decodable CVCe fluency passage might include a few words with consonant blends.
The high-frequency words used in the passage either correspond to phonics skills students have already mastered or they have been previously learned as sight words. Decodable passages can be used to reinforce phonics instruction, build reading fluency, and even assess student literacy skills.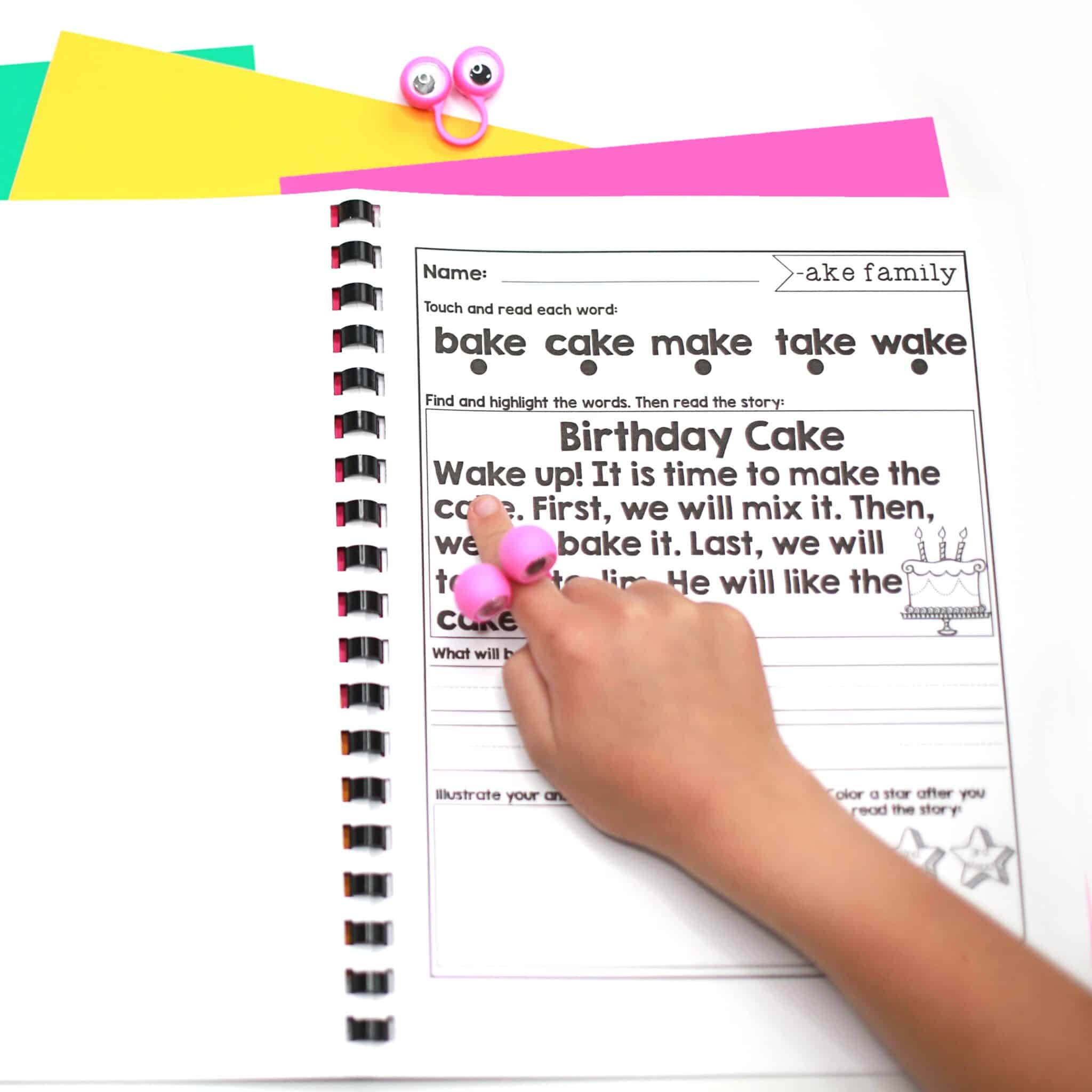 5 Reasons to Use Decodable Passages in Kindergarten
There are many reasons why decodable passages should be part of your kindergarten literacy toolbox. Here are just a few:
1. Practice Word Families
If you like to practice phonics within the context of word families, decodable passages are a great resource!  As I mentioned above, decodable reading passages focus on one phonics skill at a time.  This means that the passage focuses on one word family "chunk" at a time. You can use these word family passages to help your students see these phonics patterns in isolation and within decodable sentences. 
You can also use decodable passages to assess how your students are progressing with individual word family phonics patterns. It will help you know who is ready to move on to the next word family and who could use more support.
2. Improve Reading Comprehension
One of the best features of decodable passages is that students are reading words within passages that have context and meaning. They aren't just decoding words in a list! Decodable passages are a very approachable way to practice basic reading comprehension. The paragraphs are short, so it's not overwhelming for students to go back into the story to find the answer to a comprehension question. This is a great foundation for learning how to cite text evidence!
Another fun way to help students practice reading comprehension is to have them illustrate their answers to the question. This is very helpful for young learners who are still learning how to read for meaning. Plus, the added fine motor practice of drawing is always a bonus!
3. Use a Predictable Routine
Using a set of decodable passages will help you set up a predictable reading practice routine for your students.  Since the layout of each activity is the same, students will know exactly what to do when a decodable passage is placed in front of them!  This predictability means that students can focus on decoding the passage instead of navigating the worksheet. 
With my set of decodable passages, students can use the following routine:
Step One: Touch and read each word in isolation. This will help students review the phonics pattern and visualize chunks.
Step Two: Find and highlight the focus words in each sentence of the decodable text passage.
Step Three: Read the story once using their phonics and sight word knowledge.
Step Four: Rewrite their favorite sentence from the story or answer a comprehension question, depending on the passage.
Step Five: Illustrate the sentence they wrote in the previous step.
Step Six: Read the passage three more times, coloring in a star each time they read the story.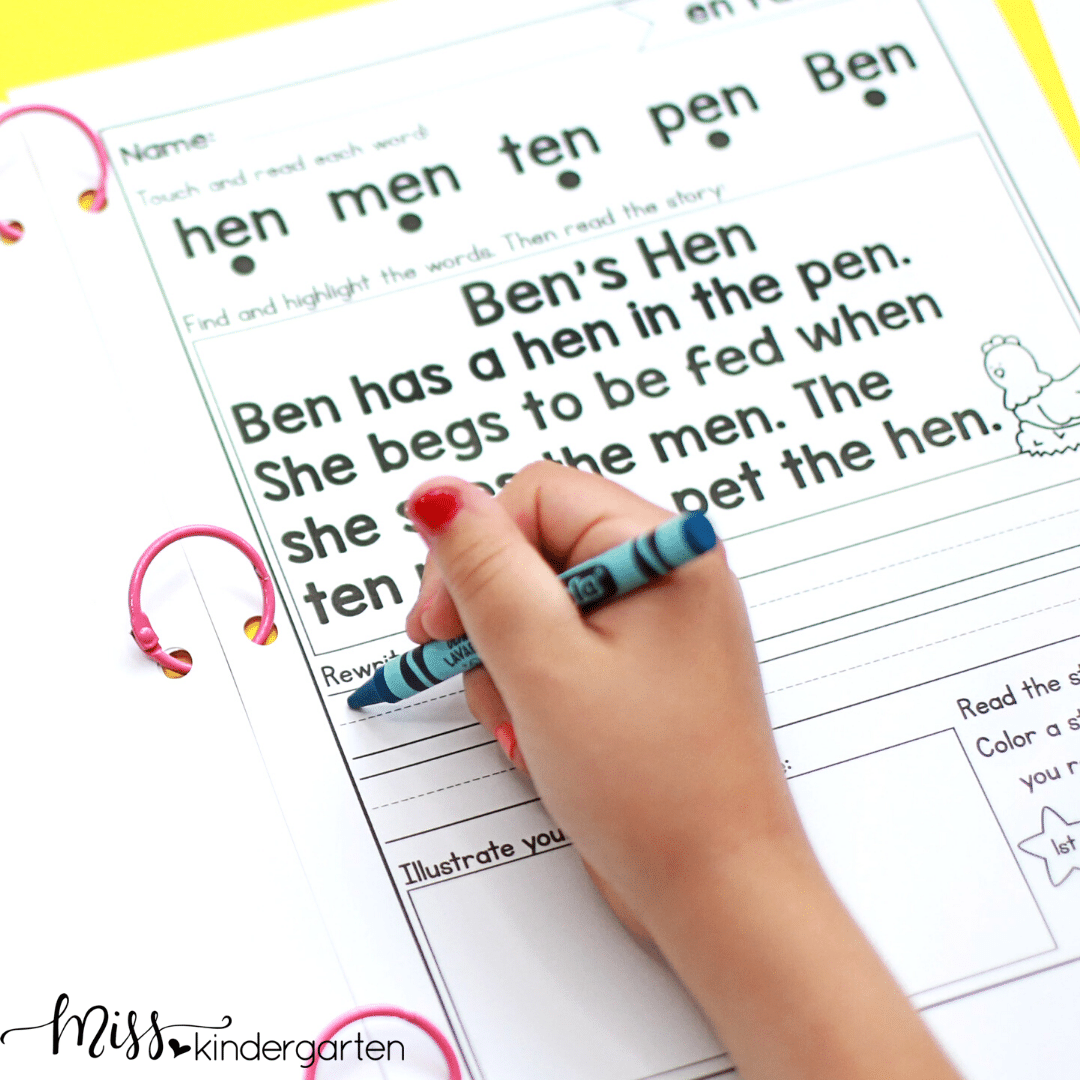 Once your students are familiar with the routine of decodable passages, it opens up many different possibilities for incorporating phonics and fluency practice throughout the school day. Students can independently practice reading these decodable passages during morning work time, literacy centers, or even as fast finisher activities!
4. Build Student Confidence
As students are able to navigate these reading passages independently, they will become more confident with their reading ability.  Decodable passages are a "just right" length that can help students experience success with reading.  As students read each passage multiple times, they will notice their fluency improve with each attempt.  These small wins can make a big difference for young learners who are just beginning to read!
5. Encourage Reading Practice at Home
Finally, decodable passages can encourage students to practice reading at home. After practicing the decodable text in class and completing the comprehension activity, students can take their papers home.  Whether you send home the pages one at a time or after a packet is complete, your students will be so excited to show off their decoding skills to their families!
As kindergarten teachers, we know how important it is for students to practice reading outside of the school day. It's always a bonus when we can find a way to motivate students to read at home!
Printable Kindergarten Decodable Passages
I have created a bundle of decodable reading passages to help your emergent readers grow into fluent readers!  This time-saving resource includes no-prep reading fluency passages for short vowels, blends, digraphs, and long vowels.  This bundle also includes fluency assessments that are perfect for gathering data on student growth.  You can use each assessment page as a pre-test and post-test for your phonics instruction.
These decodable passages can be printed off individually for daily practice, stapled into weekly packets, or even bound into fluency practice books. The flexibility means that you can use this resource in a way that works best in your classroom.
If you'd like to take a closer look at everything included in this bundle, you can click below to find it in my shop.
Save These Decodable Passages for Kindergarten
If you're short on time, be sure to save this post so you can come back to these printable fluency passages for kindergarten.  Just add the pin below to your favorite teaching board on Pinterest.  You'll be able to find these kindergarten decodable passages whenever you need them!