As kindergarten teachers, we love to use crafts to help students improve their fine motor skills and practice other content area skills. Since kindergarten crafts are so helpful for students, they are an important part of the weekly classroom routine! Today I am sharing some of my favorite kindergarten crafts that will keep fun arts and crafts on your schedule for the whole school year.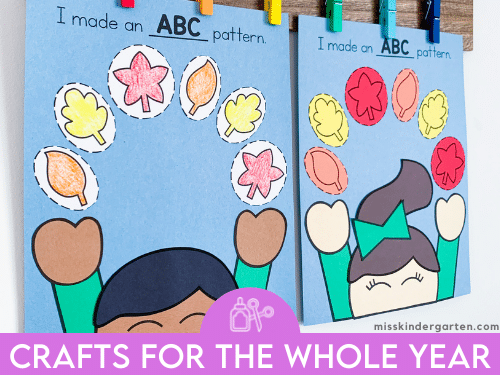 Back to School Crafts
These simple kindergarten crafts are a great way to ease into the school year and gauge where your students are at with their fine motor skills.
1. All About Me Backpack Craftivity
This back-to-school craft is a great getting-to-know-you activity!
2. My First Day of School Craft
The first day of kindergarten is an important milestone! Help your students remember it with this fun keepsake craft.
October Crafts for Kindergarten
Once students have had a chance to settle into the school routine, the seasons start to change and excitement starts to build as Halloween approaches. October crafts are a great way to celebrate holidays while practicing important content area skills.
November Crafts for Kindergarten
There are many exciting things going on in November! These seasonal craft ideas are a fun and engaging way to continue practicing fine motor skills.
December Crafts for Kindergarten
As the winter break approaches, these kindergarten arts and crafts ideas will help students channel some of that holiday excitement into a creative activity!
January Crafts for Kindergarten
After students return from winter break, crafts can be a great way to ease back into writing and fine motor practice.
Kindergarten Crafts for February
There are several fun things to celebrate in February and these crafts for kindergartners are a great addition to your classroom festivities!
Kindergarten Crafts for March
By this point in the school year, students are comfortable with a regular craft routine. These crafts for March help students celebrate holidays and practice a variety of content areas.
Kindergarten Crafts for Spring
As the weather warms up and the school schedule gets busier, these kindergarten art activities can be used for easy seasonal bulletin boards!
End of the Year Crafts for Kindergarten
Crafts can be used to help students celebrate their accomplishments from the school year and also look forward to summer! These fun craft ideas will help students keep their fine motor skills sharp for first grade.
Kindergarten Crafts for the Entire Year
Are you interested in using fun seasonal crafts throughout the school year? You can save time and money by downloading all of these kindergarten crafts in one Mega Bundle. You can find this resource in my shop!
Save These Kindergarten Crafts for Later
Do you want to come back to these kindergarten craft ideas? Add this pin to your favorite teacher board on Pinterest so that you can refer back to this post full of fun crafts for kindergartners!