As kindergarten teachers, one of the first things that we work on with our students during math is number practice, including number formation. It's important to keep number formation practice fun and engaging for young learners! This keeps them motivated to learn the formation of each number. Catchy Number Formation Rhymes are one of my favorite ways to teach young students how to write numbers.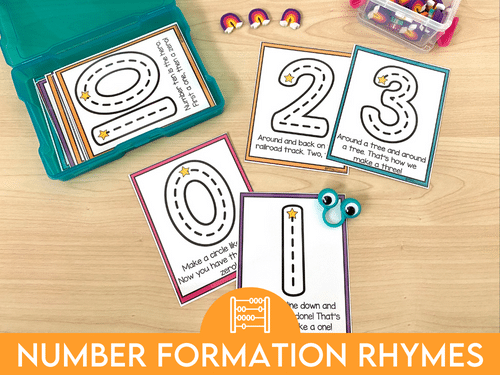 What Are Number Formation Rhymes?
These number formation rhymes and number poems can be used to teach students how to correctly form the numbers zero to ten. The poems are short and give simple clues to remind students what to do with their pencils as they write numbers. For example: "Little circle, then a line. That's how we make a nine."
The goal of using these rhymes is to provide students with a tool that they can use when working independently. Poems are catchy and easier to memorize, which means that students are more likely to use them when they're writing numbers throughout the school day.
The best part of using number poems for kindergarten is that they can be adjusted and customized for the needs of your class. You can use the number formation sayings that work best for your students!
Free Download
Number Formation Poems
Make learning numbers fun with these poems to teach the correct number formation! Posters, task cards, and reference sheets are included! You can grab these for FREE by signing up below.
5 Ways to Use Number Formation Rhymes
One of the most important ways to help students memorize number formation poems is to have plenty of repetition! By using these rhymes throughout the school day, students will be more likely to master number formation. In this post, I wanted to share several ways that you can use number formation rhymes in kindergarten. These tips will help you add engaging repetition to your number practice!
1. Whole-Group Instruction
Fun number rhymes are perfect for whole-group instruction. The rhythm of each number poem will keep your students engaged as you teach them how to correctly form numbers. As you introduce each number, students can practice writing the numbers on the carpet, in the air, or on their arms as they practice reciting the number poem.
To add even more engagement to whole-group instruction, you can practice reciting the number poems in different ways. Students can whisper or use a robot voice to add variety to the repetition. You could also call on smaller groups to demonstrate, like students wearing a particular color.
Another simple but fun way to have students practice these rhymes during whole-group instruction is to have them "teach" the teacher! You can have them recite the poem together as a class while you listen and write the number based on their instructions.
2. Number Formation Posters
After the correct number formation has been introduced to the class, you can hang up corresponding posters, like the ones pictured above. Students can use these number formation posters as anchor charts throughout the school year. They can refer back to these number posters any time they need them! I like to include the starting point on each number to remind students that they never write numbers from the bottom. This small visual reminder really helps their developing penmanship!
3. Math Centers
After your students learn correct number formation, it's time for them to practice independently! Number formation poems can be incorporated into many different individual practice activities during math centers. It's helpful to use resources that encourage similar starting points and number formation. The easiest way to do this is to bring the number formation rhymes directly to math center rotations! Number formation task cards are also great for morning work.
Simply print off and laminate these task cards that use the same number poems that your students already know. These task cards can be used to provide your students with engaging repetition for number formation practice! They can use a dry-erase marker to trace and write each letter. Students can also use small manipulatives, like mini-erasers, to form each number. This helps them practice their fine motor skills as they pick up and place the small items on each number.
4. Number Practice Printables
Number formation poems can also be a handy addition to Number Practice Printables. Simply add the number formation rhymes to the top of your number sense worksheets. This provides a good reminder to review the rhymes as the students complete the assignment. When these completed pages are sent home, parents can also see the number formation poems. This helps parents support their kindergartners at home!
5. Number Formation Poems Reference Sheet
Another way to help families support their children with number formation is to provide them with a handy reference sheet! It contains all of the number formation poems that will be taught, so they can use the same language and prompts at home. This consistency is extremely helpful for young learners!
You could also laminate these or send them home in a sheet protector so that families could use these reference sheets for dry-erase number formation practice!
Finally, it's helpful to keep this number formation reference sheet in your substitute teacher folder, and classroom volunteer materials. This will just add to the consistency of your number formation practice when all of the classroom helpers use the same number poems.
Free Number Formation Rhymes, Posters, and More!
I have put together a set of freebies to help you introduce number formation rhymes to your students. This resource includes number formation posters, task cards, and a reference sheet.
This resource includes two starting point options for the number five, depending on what order you prefer to use for writing that number. You'll also find editable versions of the posters, cards, and reference sheet so you can customize your own number formation rhymes!
If you'd like to take a closer look at everything included in this free download, just click below to find the free number formation poem resources.
Free Download
Number Formation Poems
Make learning numbers fun with these poems to teach the correct number formation! Posters, task cards, and reference sheets are included! You can grab these for FREE by signing up below.
Save These Number Formation Rhymes
I hope this post gave you some ideas on how to help your students improve their number formation skills using number poems! If you'd like to come back to these ideas and resources, be sure to save this post! Just add the pin below to your favorite teaching board on Pinterest.