Kindergarten teachers spend a lot of the year focusing on teaching numbers and number sense. It's arguably one of the most important things you will do with your class, and often it can be a little tricky to work into your day on top of all the things, including teaching the alphabet in depth! Not to worry though, today I have your solution for covering Kindergarten number sense! These are some of my very favorite ways to teach number formation, number recognition, counting, and more!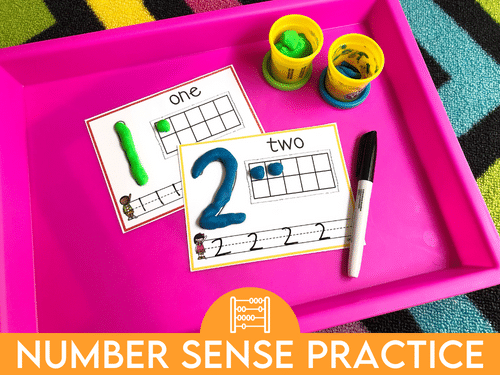 Teaching our students all about numbers is a primary objective in kindergarten. To help I have put together a fully comprehensive Number Centers and Printables Bundle. This bundle includes everything you need to meet all those number sense standards in a fun, interactive, and engaging way.
Recognizing and Writing Numbers to 20
One of the first things we must teach is number recognition. And . . . right alongside recognizing numbers is writing numbers. Learning proper number formation takes time and repetition for young learners. These resources and activities will help.
Number Poems & Posters
When I first begin teaching numbers I always start with these free number poems.
The students love these silly rhymes which help them remember what the number looks like and how to write it.
This fun resource uses short poems to help students visualize how to write a number.
I also love to use these free number formation posters as I teach each number.
They make a great reference tool after our lessons for students to refer back to.
Practicing Numbers
Once I've taught the numbers, we spend a lot of time practicing them! I like to offer multiple ways for my students to interact with numbers. My Number Practice Printable Bundle comes with 3 different activities to practice number recognition and writing in-depth.
Little Number Books
Counting and Number Practice Worksheets
Interactive Number Journals
Your students will work on writing numbers, showing numbers in tens frames, practicing writing number words, one-to-one correspondence, and counting!
I highly recommend using different methods to teach these skills so that your students have the repetitive practice they need to master these important skills. With these practice activities, you can make writing numbers part of your daily routine!
Kindergarten Number Sense Worksheets
These Number Sense Worksheets will help your students move from number recognition to understanding. They will help your students develop a strong understanding of numbers through:
counting by 1's to 100
learning number names and sequences
understanding the relationship between numbers and quantities
practicing skip counting by 10's
They come in 2 sets, one for numbers 0-20 and one for numbers 21-50. I love binding these pages into a journal and using them as morning work or for daily math time. You can also use them as homework or a daily number review.
Number Playdough Mats
What kid doesn't love playdough, right? Playdough is always such a huge hit in my classroom, which is why I created these Fine Motor Playdough Mats.
Students will practice rolling their playdough to form numbers and fill the tens frames with playdough balls to show the number.
Once they have that done, they can practice tracing and writing the number with a dry erase marker.
These mats are also great to use with small erasers or counters if you don't want to break the playdough out!
Use these mats as part of your math centers, or add them as a morning tub or early finisher activity. They are a great hands-on way to work on number formation and number skills.
Hands-on Kindergarten Number Sense Activities
Another great way to keep students engaged is to pull out hands-on activities! I love using hands-on activities in my classroom, as it always seems to draw the attention of my little learners. When opting for a hands-on activity, there are so many options.
Monster Counting Cards
This free Monster Counting Activity is a favorite year after year. Students will practice recognizing numbers and counting with these silly monsters.
I like to add in some googly eyes as the counters for lots of laughs and giggles.
These monster counting cards can be used as a morning activity, math center, or even as a whole class activity.
Spin and Write
Spin and Write is always a favorite for my students and makes a fantastic center activity! Students will spin a spinner using a pencil and paperclip. Then write the number they landed on. It's a great way to work on number writing and some hand-eye coordination at the same time.
Number Tracers
These number tracer cards are perfect for pairing with toy cars. Students will drive the car around to practice the correct number formation. They make a great morning activity or math center. I like adding them to the building center where students build a town and use these cards as the road. They love driving through their town on all of the numbers.
Fine Motor Mats
These fine motor mats are so versatile and provide for lots of number practice. One of my favorite ways to use these fine motor mats is with counting at snack time. Snacks like cereal or goldfish make great counters for these mats. You can also use them without food by giving students small stickers, dot markers or even painting with q-tips. You can use the same mats and change up the method for a new activity each time. They are a great way to connect some fine motor skills practice with number sense.
Kindergarten Counting Center
This Free Count and Reveal center is a perfect activity for practicing counting and one-to-one correspondence.
Students will count animals on a card and then open the flap on the card to see if they are correct.
This self-correcting center will allow your students to see if their answer was correct, which makes this an awesome independent center station!
Number Tracing Strips
This resource is another fantastic option for centers or morning work. Simply laminate the cards and provide your students with dry erase markers for an activity you can use over and over. Students will work on tracing numbers with each strip. Simple create a tracing ring or keep each strip separate.
Kindergarten Number Sense Boom Cards
Another great way to get your students excited to learn is with Boom Cards!
These digital number sense activities have a game-like feel that keeps students engaged and learning.
My Number Centers and Printables bundle includes a Boom Card resource to add to your technology center. Your students will practice:
Counting in tens frames
Number identification
Decomposing numbers
Adding these digital tasks cards to your center routine or sending them home for extra practice is a great way to add in some extra number sense practice that doesn't feel like learning.
Kindergarten Number Sense All Year Long
Make planning, teaching, and practicing numbers and number sense a breeze with all of the great resources in the Number Centers and Number Printables Bundle. You can save time and energy by grabbing these engaging activities.
Looking for a way to simplify teaching the alphabet as well? Be sure to take a look at the Alphabet and Number Practice MEGA Bundle! This bundle comes complete with EVERYTHING you need to teach both letters and numbers!
Save These Kindergarten Number Sense Activities for Later!
I hope you enjoyed these Kindergarten number sense activities! Make sure to pin these ideas to your favorite classroom Pinterest board for later! And don't forget the freebies!